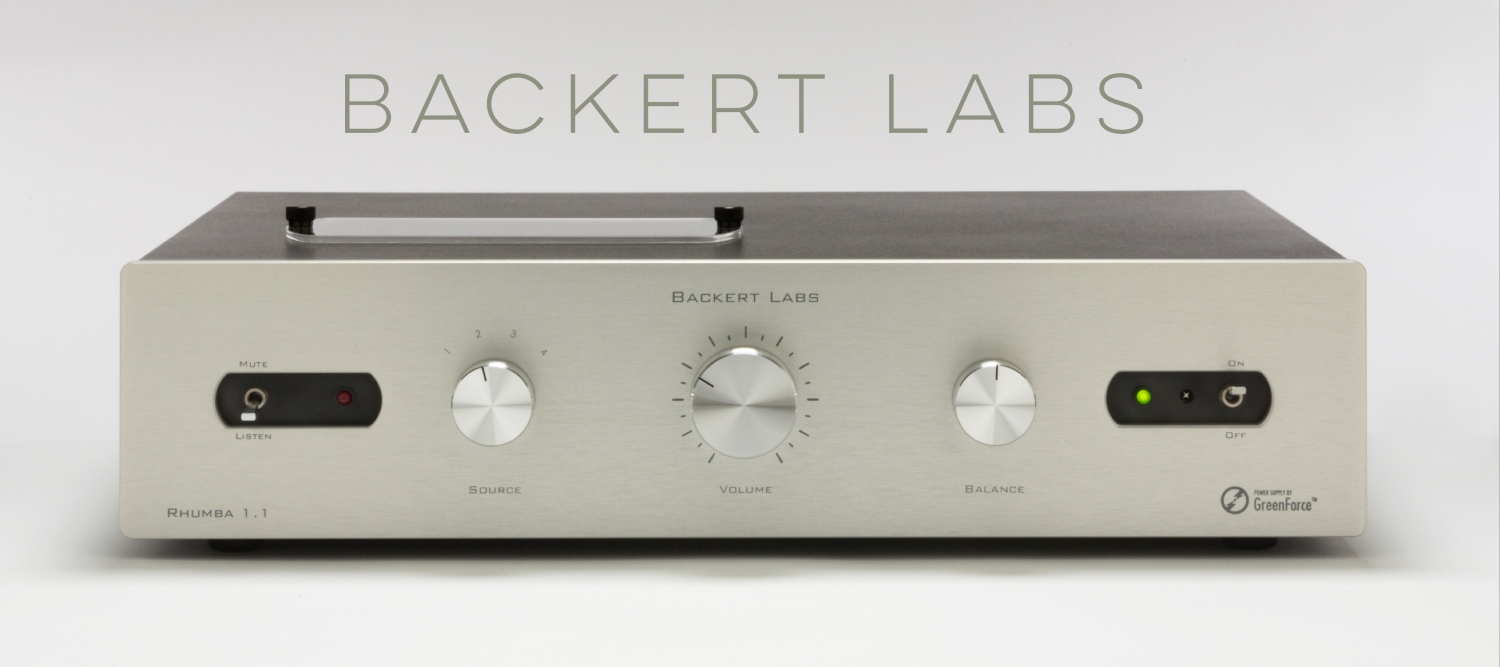 The Rhumba 1.1 is our $2,995 linestage preamp using two 12au7 tubes, and includes a handy "tube door" on top for easy tube changes. It has 3 RCA inputs and 1 XLR input.  It has 2 RCA outputs, and 1 XLR output.  It has a REC OUT, as well as a Home Theater Bypass input.  It comes with a hefty remote control for volume, and its front panel features balance and volume controls, a selector switch and a mute switch.  The Rhumba's circuit design is nearly identical to our flagship preamp, the $7,500 Rhythm 1.1.
I unpacked it and set it up. Great packaging. Everything works as it should.  Unit sounds great, very detailed.  First tune I listened to was from Dire Straits and Wow was my first thought.
I did not want to get up out of my listening chair.
——————–
The best thing I can say right now is that since I put this preamp into my system I have been listening to the music and not the gear for the first time in a while.
——————–
First impression: The sound is extremely clear and precise at relatively low volume levels v. what I'm used to. Transients are also clear and precise. I can say right off the bat that this is an excellent preamp. The highs and mids are very clean with exceptionally good timbre, and the bass seems very powerful and well controlled.
I started listening with "Don't Ever Let Nobody Drag Your Spirit Down" from the Opus 3 30th Anniversary Celebration Album, and the sound quality of the double bass, for example, is extraordinary. With a double bass I love to hear the vibration of the strings and the particular timbre of the wood. The Rhumba 1.1 really brings these details out — even at low volume.
I'm already very favorably impressed.
——————–
Just a quick note to say how much I'm enjoying the Rhumba.  I'll echo what others have said — it doesn't just sound good, it sounds right.
——————–
I've been spending time this week with an old favourite, Janos Starker's stereo Mercury recording of the Bach cello suites. I always think of solo string music as one of the big tests for audio gear, because all kinds of nuances that are usually completely missed on lower grade equipment suddenly surface when you hear it on the right gear, and the artistry and personality of the player are so much more vividly revealed to you. It's been very moving for me to hear so much more of his musicianship coming through than I had ever realized was captured on these discs.
——————–
The Nightfly by Donald Fagan is one of my favorite recordings and I do not think I have ever heard it sound better. The Rhumba puts out a crystal clear sound. Like has been said before, you are listening to music instead of gear. I did not want to get out of my chair. I did not get a lot of sleep this week, because I kept losing track of time while listening to music and staying up much later than I should.
——————–
I compared Sir Georg Solti's conducting the Chicago Symphony Orchestra with Daniel Barenboim's conducting the West-Eastern Divan Orchestra, playing Beethoven's 3rd.
I concentrated on the second movement, which I think is extraordinary. The oboe part in the movement was rendered with great beauty; the music seemed to float above and in the middle of the orchestra. Wonderful listening!
When I first heard the Barenboim version, I was afraid I had failed properly to install the Rhumba 1.1 because it sounded as if the violin section was on the right of the orchestra and the cellos and basses on the left. However, when I referred to pictures of the West-Eastern Divan Orchestra, I discovered that the seating was, in fact, what I was hearing. The Rhumba 1.1 brought this out, and I had never discerned it before in all the times I had listened to this CD.
The "air" between instruments and vocalists achieves excellent distance between sound sources. Sound sources are also accurately located on the sound stage, as verified wherever possible by personal knowledge of orchestral seating (Chicago Symphony Orchestra) or diagrams provided by the album's producers (e.g., Chesky records for Monty Alexander's "The Good Life" and Jimmy Cobb's "Cobb's Corner").
Important for me, in rendering complex orchestral music – e.g., Beethoven' Symphony No. 3 — there is no "muddle in the middle" and no smearing of rapid transitions.
——————–
The Rhumba is fast, dynamic, and capable of controlling any amp I can throw at it – from a 30-years-old Perreaux 300 watts per channel, to a CAT dual mono at 600 watts per channel, to a pair of Perreaux monoblocks at 750 watts per channel. It appears to bring out the best in each of them.
To me, this preamp has given me sonic bliss. My soundstage is wider, deeper and more holographic with the Rhumba. The Rhumba has great control over tempo and rhythm and I truly cannot find any fault with the unit. My bottom line on the Rhumba is that it has me listening to the music instead of trying to find fault with the system, which hasn't happened in a long time.
——————–
Ok, I just hooked it up for listening this weekend, I have to say this is a very nicely built unit, the remote it self is beautiful…
——————–
It starts becoming like crack the more you listen to it.
I was blown away by how good it sounds in my all digital system.
——————–
My first impression after unpacking the Rumba was, this is a great looking preamp. It is significantly heavier, and a little taller than my Belles 22a. The remote control is heavy, but only controls the volume. It would be nice to be able to control the source and to have a mute button as well. Two things that I really like about the design are the tube "tub" and how the RCA connectors are spaced out on the back of the pre. It makes hooking everything up very easy. The front is a simplistic clean look.
The Rumba is very musical piece of gear where the sound seems to envelop you. The soundstage is very large and open. The vocals are more forward (in a good way) than with my other pres. The detail on John McLaughlin, Al Di Meola, and Paco De Lucia's Mediterranean Sundance from Friday Night in San Francisco is incredible. You can actually pick out all three of these incredible guitarists and their position on stage. Drums are crisp and hit hard. The imagining is outstanding. Listening to Etta James' I'll Take Care of You, the vocals are nicely layered. The vocals of Chris Jones on Roadhouses and Automobiles are spectacular. The background crickets on that song are easily heard.
I tried to find fault in the Rhumba, but cannot. If I had to nitpick, it would be the remote, while I love the design and feel of it. At this price point, I would like it to have a mute button, on/off switch, and a way to switch sources like my Belles remote. I would have no problem recommending the Rumba to anyone looking for a high quality preamp.
——————–
The tube "well" is an excellent and well thought-out design. Easy access without tools is perfect for tube rolling. The remote is a sleek and heavy matte black and chrome affair and very nice. It speaks of excellent quality and it controls the volume in reasonably small increments.
The Rumba really excels at rock tracks, Def Leppard's High-N-Dry, Black Sabbath Paranoid, and Floyd's Wish You Were Here are all crunchy and delicious, but it is equally capable on Chieftains, JT, or opera for that matter.
I find the Rumba very impressive and enjoyable. I feel that with a bit of time and tube rolling, this unit could be tuned exactly to any listener's preference and system, as it responded very well to the small bit of tube rolling I've been able to perform. I actually prefer it to my Audible Illusions by a good margin, not only for its ease of tube rolling with the tube "well" on top, and use of the very accessible 12Au7 type, but also for the more silent background overall and bass response. I enjoyed the enhanced "crunch" that the Rumba seemed to be able to produce while not losing top end detail or sacrificing that nice tube midrange. It's hard to imagine it's Backert Labs' "entry" preamp honestly.
——————–
I've never heard the individual instruments, the power and realism of the bass or the clarity of vocals and percussion as well. My hat is off to Backert Labs.
——————–
[From a listener who had just installed the $7,999 ClearAudio Titanium v2 cartridge]
The Rumba seems capable of playing up to the level of better gear that surrounds it. There seems to be little risk of it ever being seen as the weakest link in the chain, which is especially commendable at the pricepoint this pre plays at. I am currently spinning The Beatles' Let It Be-NAKED, and find there is a big chunk of information on this recording that has been previously missed. I am certain much of this has to do with the cartridge, but what is admirable here is the Backert seems to just not be there at all.
I have gone from skeptical to appreciative of this preamp's performance. I have a ton of listening to do, and some dialing in of my phono pre for the new cartridge, but I must say this is the first time I can say there are no weak links in my system. This is truly a joy to listen to. I feel I could have gone to Axpona and not felt the least need to part with even a dime.  The Backert is really an impressive value for getting into the higher end of audio.